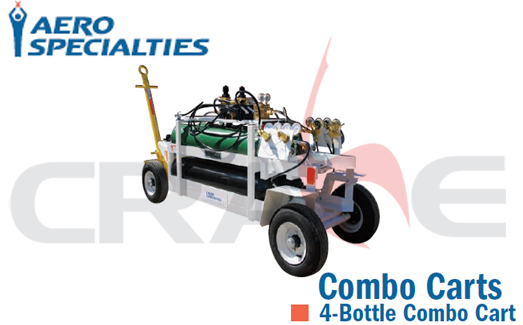 AEROSPECIALTIES/通航机坪4瓶装一体车含增压泵/4-Bottle Combo Carts
Our 4-bottle oxygen/nitrogen cart accepts 2 oxygen and 2 nitrogen bottles.
Regulators can be easily mounted on the built-in regulator brackets. NB-45 nitrogen booster and
OB-30 oxygen booster can be mounted on the top of the cart for safe & easy operation.
Heavy-duty fifth-wheel steering provides optimal in-hangar maneuverability by hand,
while the heavy-duty running gear and towbar allows for vehicle towing across the ramp or airfield.
---
Complete Systems
We offer complete 2, 3, and 4-bottle nitrogen and oxygen systems for hangar and remote applications. We will configure your system with only the items you request, with or without booster and/or regulators and connecting hose kits. All complete systems are shipped fully assembled and ready to operate on arrival (unless a more compact shipping requirement is necessary).
---
à la carte
We also offer individual components for adding or replacing parts of existing servicing systems. All boosters, regulators, and accessories are available on our online store at any time. Most products are always in stock, with very few and very short backorders.
---
Features
• Simple, ergonomic design with positive bottle lock system
• Heavy-duty pneumatic tires with locking towbar brake
• Heavy-duty, powder-coated steel frame with horizontal bottle loading
• Built-in hose racks (both sides)
• Built-in regulator mounting manifold and booster bracket
• Complete safety and operation decal kit, complies with strict EU regulations
• CE-marked models available
• Dimensions (physical): 96" x 48" x 45", 600 lbs
(244 cm x 122 cm x 87 cm, 273 kg)
Crated (shipping): 96" x 48" x 48", 725 lbs
(244 cm x 122 cm x 122 cm, 330 kg)
AERO Product ID Number
Unit
001627-SN
4-bottle O2/N2 combo cart (boosted)